It's getting closer! All the drywall is up in the new studio and once the drywall inspection is done next Wed., we can start the final slog through taping and mudding and painting and all the other myriad of stuff that needs to be done to finish this project.
I've had a basic floor plan for all the furnishings and storage stuff for a long time but this weekend I pulled it out again and spent way too much some time rethinking everything. I moved a few things around in the sewing area so I can make room for a bigger ironing area and more shelves for fabric and drew some elevation drawings so I could see where I could find room for small storage on the walls. There are still a few areas that need some rethinking but I'm getting close. Now I can think about the making it pretty part. :)
Ive been having a lot of fun this weekend checking out blogs showing all kinds of sewing and craft studios. Tons of great inspiration out there! I thought I'd share a few of my favorites.
Anna Lena's studio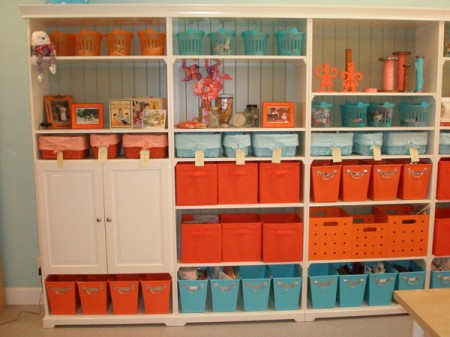 Love the colors and all the neat organization here! She must have read my mind because these are the colors I'm wanting to use for my new studio. Are you cringing at the orange, Y?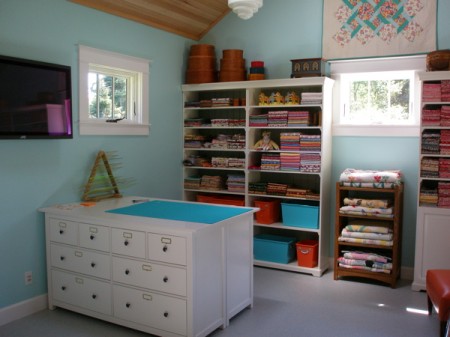 I really love this cutting table! Look at all the storage! Drool, drool, drool... For more pics, click
here
.
Crafty Intentions studio
Absolutely love the colors in this studio. In fact, it inspired me to make the curtains and chair cover that I did for the studio before we tore it down. And I love the wall with all the glass bottles for storing cool stuff. Also, you can't see it well in this picture, but click
here
to see a closer picture of the cool tin can corsets and to see lots more pics of this great studio.
Allsorts studio
Another really wonderful studio. for more, click
here
.
Modkidboutique studio
Isn't it fab? So colorful and neat! And I love the cutting table. It's made from two Ikea shelves tipped on their sides. Very tempting to make one for my studio! For more, click
here
.
I can't decide if these studios inspire me or discourage me. I think it's a bit of both. :) I know that my studio will never be as pretty as the ones above because...well, I'm too messy and some of the stuff I have to store would be impossible to make pretty. But, I still plan to try and make my space as pretty as I can...Ikea here I come.